Tokyo 5 recently posted an image of when he first came to Japan in 1990.  It reminded me of my own time in Fussa, Japan from 1989 to 1991. A friend of mine in Japan, K-chan, took some photos earlier this year of Fussa, which is outside of Yokota Air Base. She used some photos I had taken from 1989 and took similar shots from January 2013 to show how things have changed.
Since Tokyo 5 was interested in seeing these shots, I thought I'd just make a blog entry and share them.  The photos on the left side are obviously mine and on the right, K-chan's.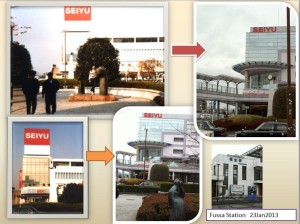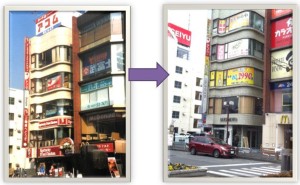 I'm told that Dunkin' Donuts is no longer at the Seiyu building (some other donut shop is there now…I think).
Also, it was surprising to me that KFC was no longer there, since the Colonel is pretty popular in Japan.  That place was my first experience with the multi-storied fast food places in Japan. Also, that was my first experience of being treated like a king in a fast food joint.  The doors slid open and two high school girls where there to greet me with a smile and a bow. Then, everyone behind the counter was bowing and greeting me. I think I spent a little extra, just because of all that. *lol*
Good times.  I really do want to go back to Japan some time and visit all of my old haunts.