2020 Weight Loss For 20200131
Gah! I forgot to do my Friday weight loss post, after having spent time in NJ the week before. Nevertheless, here's the update. AFTER I got back from NJ on Saturday, Jan 25, I weighted 316.8. So my six days of carb fun netted me 10.2 pounds. 😅 This past Friday (Jan 31), I clocked in at 308.8 pounds. That's was a drop of 8 pounds from the previous week, but I was still up 2.2 pounds from before the trip. Basically, for the month of January, my weight was unchanged.
Food Fun: Before the Trip

Originally, the plan was to only have carbs on Wednesday, Thursday, and Friday for my NJ trip. However, something caused me to cave on that Monday. Sadly, I have no clue what I ate that Monday, though it may have been Taco Bell. 😅 But because I did cave, I decided, "In for a penny, in for a pound." As such, when it came to Tuesday, I was going carbs all the way.
However, I had a bit more of a practical approach to Tuesday's eating. I had a few,  Southern Style chicken tenders in the freezer along with two bags of of nearly empty fries (one crinkle cut and one waffle style). So I tossed them into the oven and had a good time, so to speak. But, now those items are gone and won't return as I won't buy tenders again. (May buy fries in future…just depends.) I love the tenders, but when one has so few carb meals, I usually fancy something other than frozen tenders.
Food Fun: Wednesday in NJ
For my Wednesday flight to NJ, breakfast came with my first class fare. The choices were either a kale quiche pastry, or a cold, protein platter. I chose the later, which was more like a snack than a proper meal.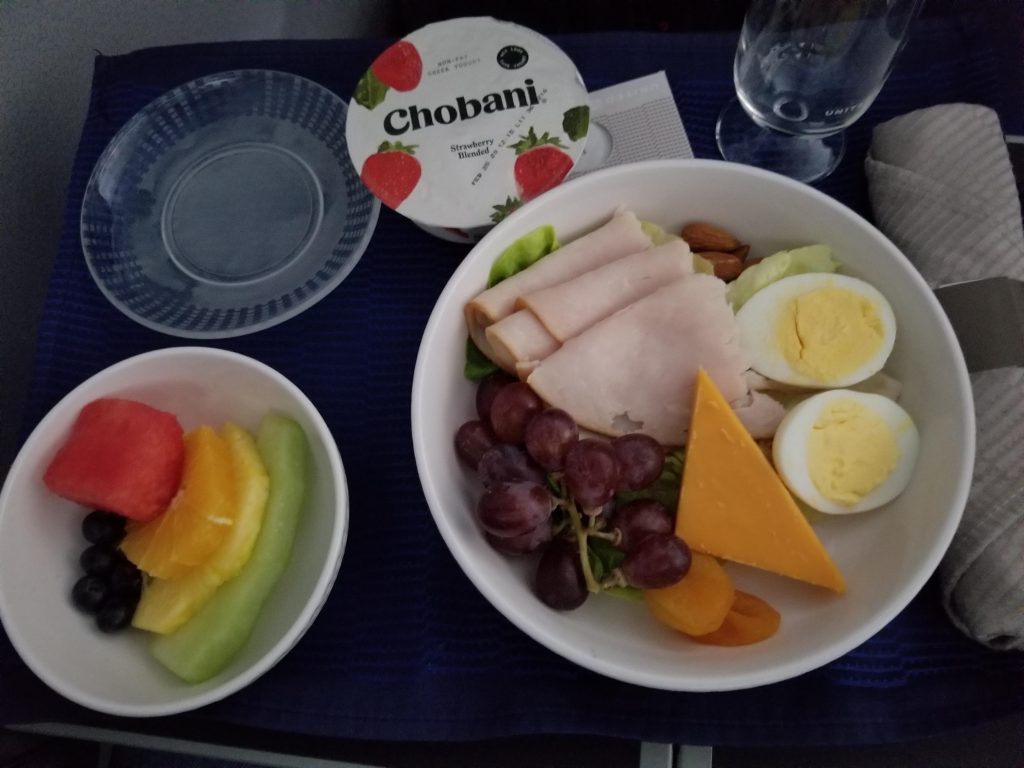 That night, I did my usual trip to a local Japanese restaurant. It cost nearly $50 of my company's money. However, for starters, I scored the white fish tempura appetizer and the "free" edamame. (They don't serve miso for "free" any more, which was a bummer.) There are jalapeno slices and onion bits in a sweet, pepper sauce under the tempura. Man, I love this so much.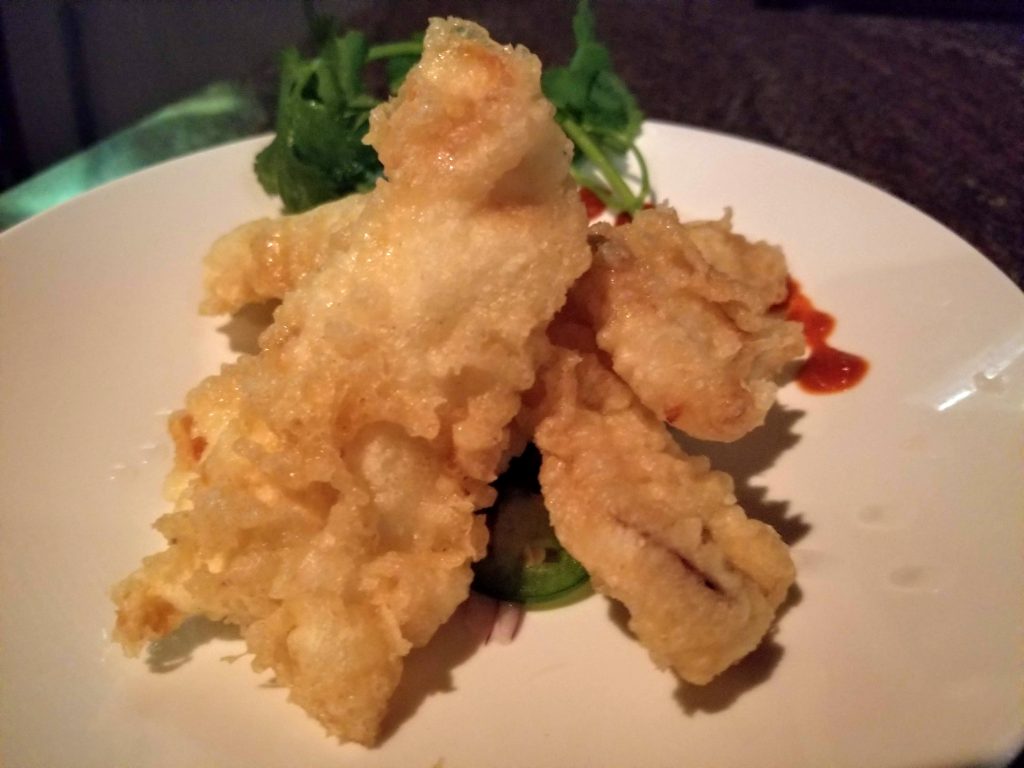 Since I was eating tempura, I decided to get shrimp tempura for my main course. That came with a side of rice. Normally, I would do shrimp and vegetable tempura, but I just wanted shrimp really badly. And I LOVE tempura.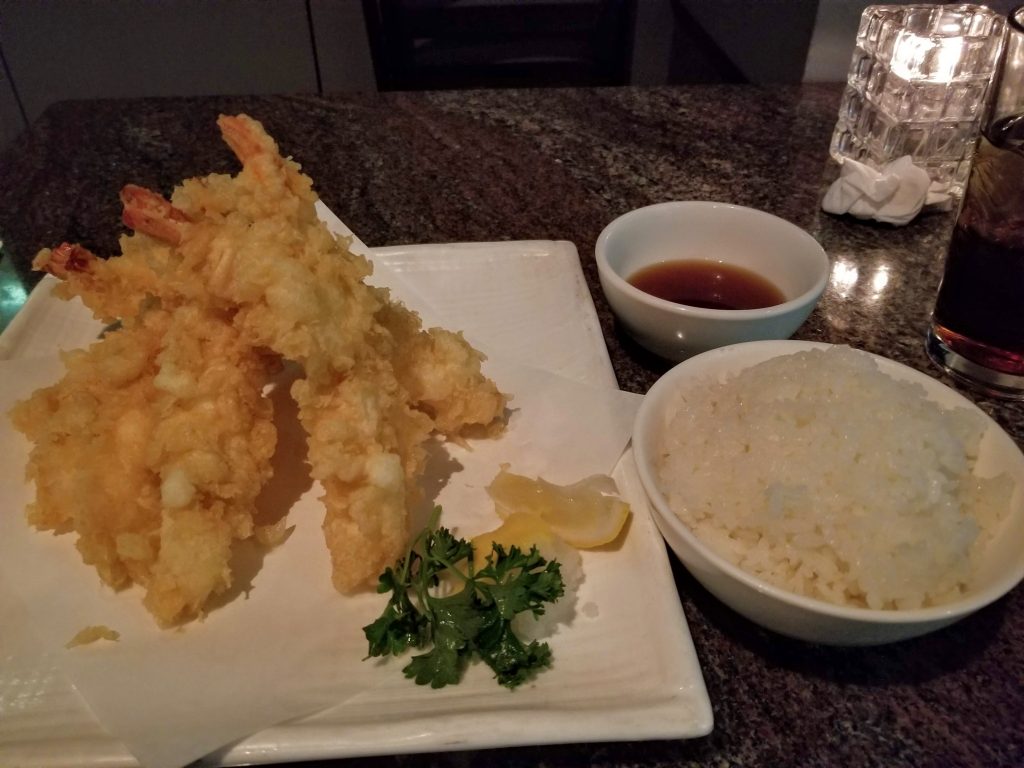 And this was the view at my table…at least, at the start. 😁
Alas, because I made run to the grocery store for some Diet Mountain Dew, a package of these jumped into my basked. 😅 Naturally, I had to give them a good home. (They were bloody amazing!)
Food Fun: Thursday in NJ
When I got up Thursday morning, I had my usual $25 hotel breakfast. (Yeah, NJ is outrageously expensive.) But it was a breakfast buffet bar, so I made sure to get tons of bacon to go with my eggs and potatoes.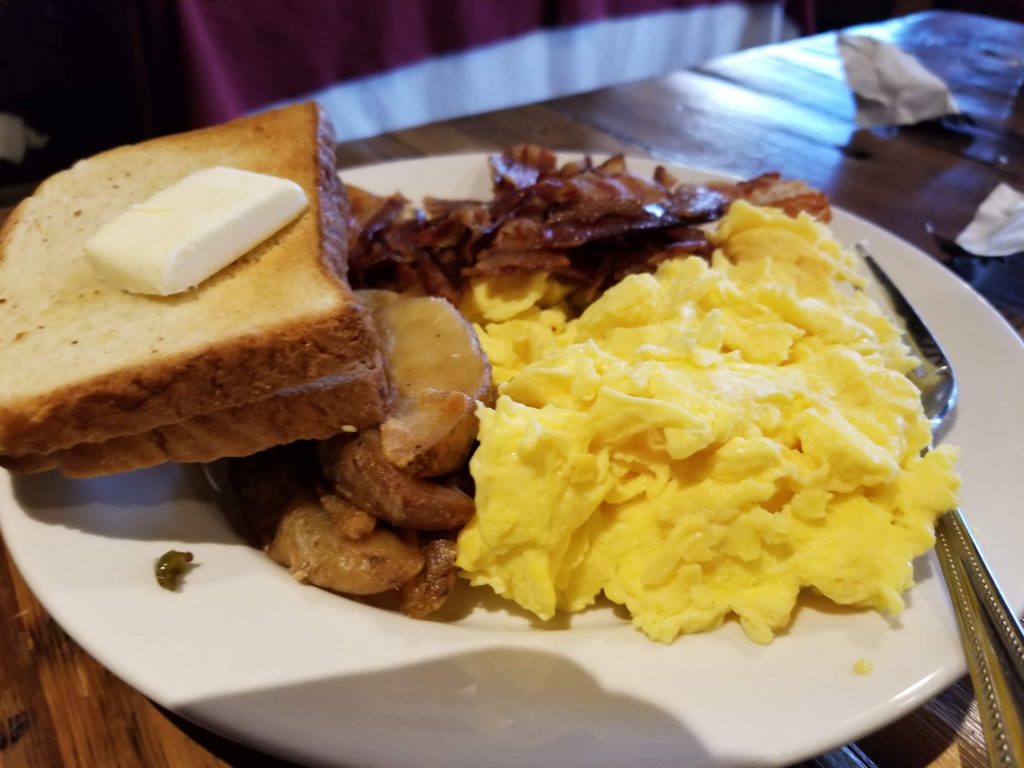 I wasn't going to eat lunch, but the company bought pizzas, so naturally, I couldn't let that go to waste. (No pics.)
That night was our shindig. No food pics, but the hors d'oeuvre were amazing, especially the pepper jack cheeseburger sliders. I think I ate six of those. The main food was OK. I had prime rib, some veggie-pasta thing, some fingerling potatoes, and something else or other. I don't really remember. But there was cake, which was OK.
Food Fun: Friday Return Trip

I had breakfast in the hotel again. As before, $25, lots of bacon, but the potatoes where different and somewhat whacked.(No new pics.)
.On the plane, I had lunch, which was some kind of Thai chicken (or so they claimed…it my memory is correct). It was a chicken pasta dish with a weird salad and a role that was kind of like a pretzel. Oh, and carrot cake.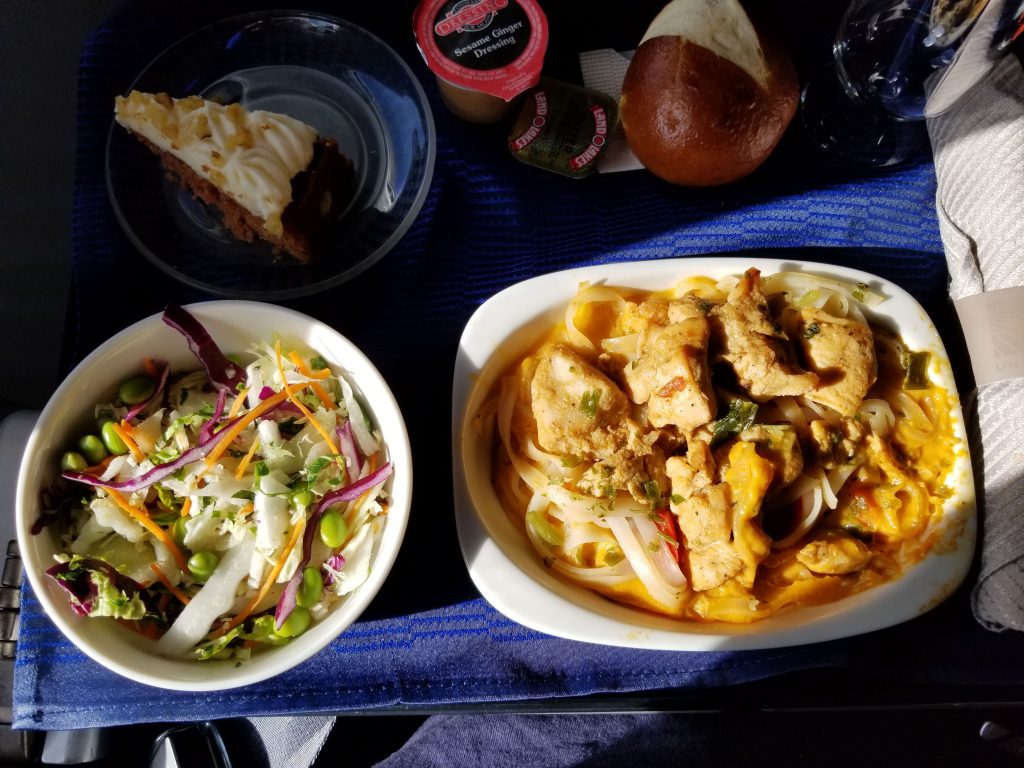 I think I may have gone to Wendy's late Friday night. I can't remember for sure though. 😅 I did have one last carb meal though.
I also had something that Saturday too on the carb front. But again, I don't remember what it was. My memory sucks at times, especially if I don't have something to make me remember what it was I ate. 😅
No Carbs Last Weekend
Since I had six days of going nuts on the food, I obviously passed on eating carbs last weekend. I am planning to do carbs this upcoming Friday, though I don't know what at this point. I'm hoping my weight is below 306, but we'll see.