2019 Weight Loss For 20190712
Thanks to working night and day of late, I'm super behind on doing things like this blog. Nevertheless, here's an update. On Friday, I clocked in at 316.2, which is a 0.8 pound loss. I was hoping for the full pound, but as my doctor and trainer would remind me, it is the trend that's more important. And the trend is in a good direction.
Low-carb At Chipotle
This week's Friday carb splurge meal was getting a carnitas burrito at Chipotle, along with a bag of tortilla chips. I had some jalapeno cheese dip that I was craving, so I figured I may as well have a burrito too.
That said, I wanted to discuss eating at Chipotle when on a low-carb diet. Actually, it is an easy thing to do, whether you are eating in the restaurant or getting it to go. You have to order a burrito bowl, which eliminates the giant tortilla. And then you have to skip the rice and beans.
When I tried this a couple of weeks ago, I got a carnitas bowl. Because a low-carb diet means no rice and beans, I opted to get extra carnitas meat. (They charge extra for this, but it is worth it in my opinion.) I added fresh tomato salsa (adds a small amount of carbs), tomatillo-red chili salsa (tiny amount of carbs, but I like the heat), sour cream, cheese, and lettuce. Here's what it looked like.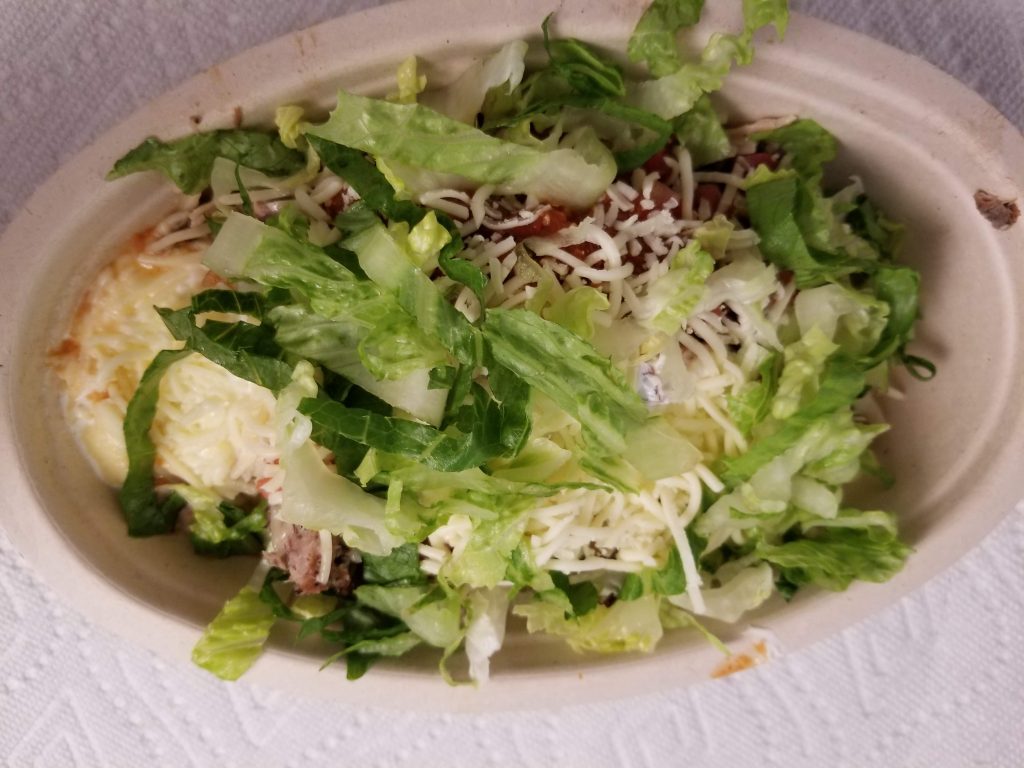 I was worried that I might not feel full. When I get a full-on burrito, I always get chips too and that does fill me quite well. But, even without tortilla, chips, rice, and beans, I felt full afterward. And I had this on the week I lost nearly three pounds, so that let me know this is a pretty good low-carb option.
The Current Week and Beyond
When I work odd hours, it really throws my system into a loop. I tend to eat more when I'm working days and nights and not getting much sleep. Even when I try not to, I find I'm still eating something during the night or morning while working. It may not be more than a snack, but I'm killing the timed eating portion of my diet scheme.
This weekend, I have a reunion with comrades from Japan, some I haven't seen in 30 years. 😅 So while I don't plan to go nuts, this too will throw me off. So I am expecting the next two weeks to be either no weight loss, or even a bit of weight gain. But we'll see.
The main thing is that after this weekend, get back on the wagon. But then, I have a birthday coming up so…😅
Well, its the trend, so after this hump, it is full steam ahead!