2019 Weight Loss For 20190628
Time to make my weekly check-in. This morning, I weighed in at 319.8, a loss of 0.2 pounds. I'm kinda in a plateau at the moment, which always sucks. However, my trainer assured me that this is not a problem.
Weekly Look-Back
Last Friday, my depression at not having lost anything, despite the day prior showing I would be at a minimum of 319, meant that I went nuts, as I documented. However, after that, it was low-carb the rest of the week. Normally, I have a couple of carb meals a week, but since I went ape-smeg crazy Friday, I opted to pass on the second carb meal. Just as well, I suppose.
I was really hungry Saturday, so I did have a couple of low-carb full meals and a couple of low-carb snacks. But after that, it was business as usual.
I'm sure being so sedentary hasn't helped either. I'm so swamped at work, I can't get away to my exercise class. I do try to get up a bit, but as you see, I'm not up at the moment. I'm sitting here, writing this post while I wait for Development to do their thing on a massive test we have going on at work. 😅
Weekly Carb Splurge
As is normal, on Friday, I go out and buy something for my first of two carb meal splurges on the week. Today, it was Japanese food. I decided to get the tonkatsu bento meal. That comes with tonkatsu (a double fried pork cutlet), steamed rice, three pieces of a California roll, some vegetable tempura, sweet pickles, an egg roll (the place I go to is run by Chinese folks, but it is the best Japanese food in town, save for the fact that they do Chinese curry instead of Japanese curry), a salad (I added the tomato), and miso soup.
Being quite the pig, I added an order of gyoza (those are on the far left and sometimes called "pot stickers"), shumai (another kind of Japanese dumpling, usually with shrimp), and potato croquette (mashed potatoes that are then deep fried in panko breading…🤤🤤🤤). The folks at this restaurant love me, so they always throw in something extra. This time, it was a two pieces of a Japanese-styled sushi roll (in Japan, sushi rolls have the seaweed wrapper on the outside not on the inside–sushi rolls are a finger food in Japan) that was filled with baked salmon and other stuff to give it a nice, spicy taste. Then this roll was dipped in tempura batter and deep fried. Man, was this insanely good!
I have to get them to tell me what they are giving me for free so I know what to order next time. But I don't want to go in expecting them to just give me free stuff. 😅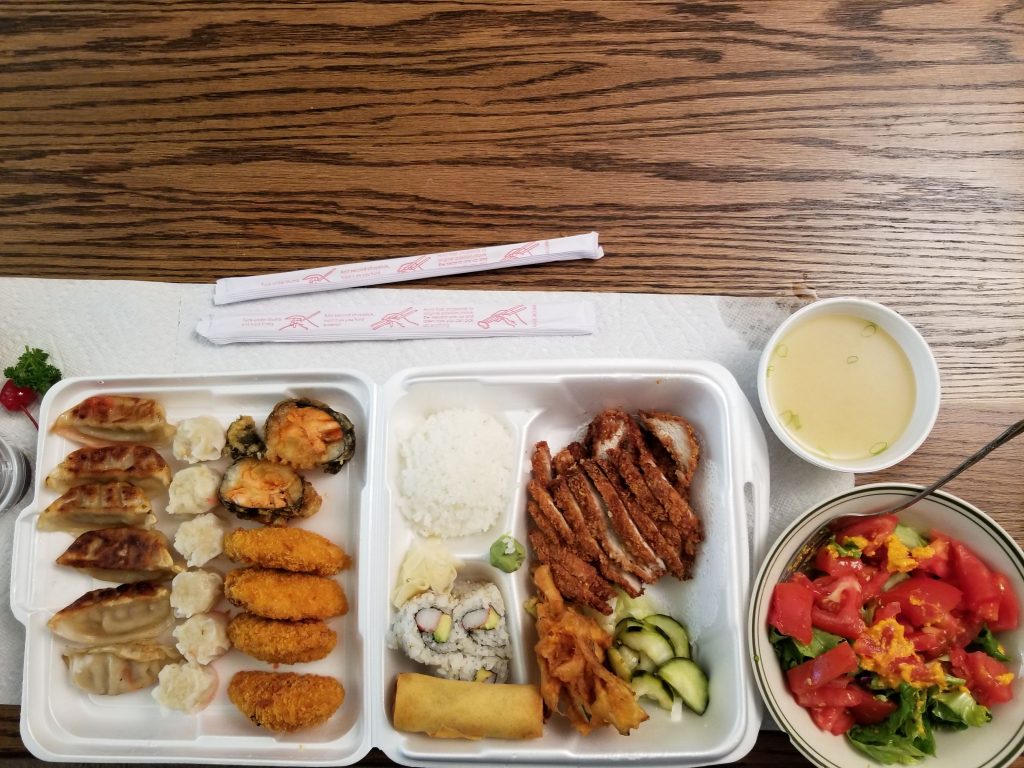 Looking Ahead
My plan for this week is to make something for tomorrow's carb meal. I don't know what at the moment.
As to my low-carb plans, I think I'm going to just axe tomatoes this upcoming week. While I can eat a limited amount of tomato on my low-carb plan, I tend to eat too much tomato and onion with my meals, thus ingesting enough carbs to negate the low-carb scheme. And I'm not as keen on tomato that has to be in the fridge after it has been sliced on. 😅 So I'll just limit tomato consumption to every now and again, probably for my carb meal when I make something at home.
Here's hoping to hit 219.0 next Friday!