It is Saturday again, thus another week in my weight loss journey has passed. That means it is time to get on the old scales and find out if I've succeeded or failed for the week. Thankfully, I can report success as I weighed in at 327.2 pounds, a weight loss of 2.2 pounds.  So, I'll take some time a little later to discuss my weight loss milestones.
This was a week which I knew well in advance was going to be a bad one. On Tuesday, my contract company rep took me out to lunch at 3 Margaritas, a Mexican restaurant where the portions are quite large, even when not indulging. I got the Macho Burro (Macho Burrito), which was pretty good. No margaritas though.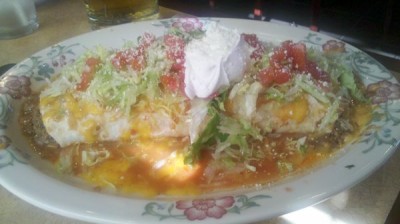 Thursday, Company B, where I work, provided us a massive Thanksgiving lunch with thick sliced turkey breast, thick sliced ham, real mashed potatoes with gravy, stuffing, cranberry sauce, salad, and rolls with real butter. There were also cookies, donuts, apple pie, and pumpkin pie. An amazing spread to be sure, and one which even though I didn't eat seconds, it felt like I'd eaten a ton.
As such, I did what I could to make sure these two bad days wouldn't affect me as badly as they could have. I tried to be very careful on the other regular days, and on my 5:2 Diet fast days, I decided to go carb-free and forgo my usual small meals which contain carbs. Since I met my 2 pound goal, I was successful, for which I thank God.
Now, as to my weight loss milestones, I thought I'd break them down.
330 pounds: My first milestone was set because for a few years, I hovered around the 330 pound mark.  It wasn't until more recent years that I went up to close to 360 in weight. So getting back to 330 was a psychological milestone to be sure.
300 pounds: This second milestone is pretty obvious. While there is little difference between 299 and 300, in terms of psychological mindset, being in the 200s looks better than being in the 300s. Also, a fair number of new t-shirts that have long sat in my closet will become available for me to wear again.
285 pounds: For the third milestone, this is what I had gotten down to back in 2009 before I fell off the wagon (from 330 pounds). So getting below 285 would be big for me because it would mean I'd lost more weight than I had in 2009, and the psychological boost of getting below 285 would be good as well.
250 pounds: There's an obvious element of 250 being a milestone, in that it is the midpoint between 300 and 200, but this is also what I weighed the last time I dated anyone seriously. So there's a double element to it.
200 pounds: Since I have no ties with any weight between 250 and 200, making 200 is the next milestone. While there's clearly the usual obvious reason for choosing 200 pounds, this is also what I weighed when I left the Air Force.
179 pounds: This milestone is what I weighed when I finished with basic training in the Air Force, what my weight remained throughout my time at tech school, and what I weighed when I arrived at Yokota AB, Japan. So this one would be a big milestone.
Anything below 179 would be great. I think 165 would be ideal for me as a final goal, but it will be difficult to reach to be sure.
Regardless, I have a lot of work in front of me. It took far too long to get below 330 pounds, and it will only get harder as the weight loss continues. Nevertheless, I must keep pressing forward.