A disappointing week as I only dropped 0.6 pounds to 342.0.  I thought for sure that it would be more, but I have noticed that when I don't get enough sleep, I don't do well with weight loss. Considering how bad my sleep was last week, no doubt this played a role.
I did finally try McDonald's Egg White Delight McMuffin, which clocks in at 250 calories vs. the normal 300 calories of the regular Egg McMuffin. For those who don't now, the Egg White Delight McMuffin removes the yoke and replaces the American cheese slice with a slice of white cheddar cheese. While certainly much better than similar sandwiches sold in the freezer section, obviously, the regular Egg McMuffin is better to me. That's not to say that the Delight was bad at all, because it was tasty for my fast day. Whether I get another or not will depend on my mood.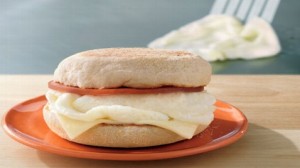 The other thing I tried last week was Hormel Compleats Homestyle – Chicken & Dumplings. This clocks in at 230 calories, and was fine. However, for instant chicken & dumplings, I'm kinda partial to Creamy Chicken and Dumplings Soup, a can of which is 320 calories, if I'm not mistaken.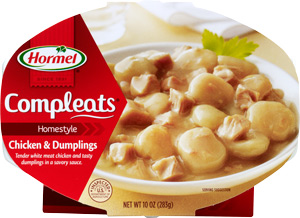 With my entering a massive work stretch, it will be interesting to see just how that affects my weight, whether for good or ill.  I'll report next week.