Another quick post as I have a very packed schedule today. Regardless, the report on this week's weight is an unimpressive 316.4, which is a 0.6 pound drop from last week. I actually thought I might weigh more than that since it wasn't a good week, what with free donuts, free breakfast sandwiches, a free Three Musketeers candy bar, and some Cadbury Eggs.  There was even a day when I violated the Carb Addicts Diet rules. Ugh. *_*
Continuing my "tasty Japanese foods" segment of late, as usual, our group made a trip to Sakura House in Denver. We got Crystal Rolls as an appetizer, but I forgot to get a picture of it apparently. I got Katsudon, and actually remembered to get a picture of it.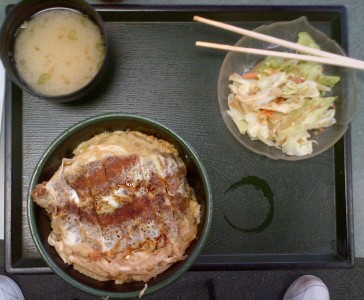 I love Katsodon.  Next time we go, I have to try the bento lunch, which a couple of the guys got and loved.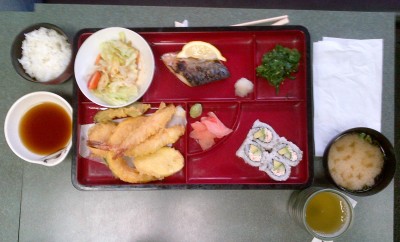 Next week is going to be a bad week due to everything on my very busy schedule. I'm going to try to mitigate the damage, but we'll see how things turn out.